Prahran Square Presents a Spectacular Free Weekend of Circus and Street Arts
Step right up to the Prahran Square Circus and Street Arts Spectacular, a dazzling showcase of Australia's finest circus and street art talent – it's free and perfect for all ages.
Presented by the City of Stonnington as part of the Melbourne International Fringe Festival, the Prahran Square Circus and Street Arts Spectacular is on Saturday October 7 and Sunday October 8 from 11am to 5pm each day.
Hosted by the incomparable Aurora Kurth, Prahran Square will transform into a hub of excitement and wonder, featuring jaw-dropping performances that will leave you breathless:
Witness Circus Firemen Angus and Matilda's high-energy acrobatics, red-hot juggling, and searing Australian comedy;
Be astonished by Lisa Lottie's, 'Bend it like Barbie', countless balancing and contorting hoops, guaranteed to leave you in fits of laughter;
Watch ground breaking performer, Joel Salom and Erik, his charismatic robot dog, an Australia's Got Talent winner;
Be charmed by Reuben DotDotDot, The Man, The Myth, The Legend, who will delight you with his blend of smooth sippin' comedy and acrobatic finesse;
See Dr Hubble, Australia's favourite bubble man, create miracles with simple soap bubbles; and
Join Abso-LUTH-ly on a zany circus adventure as she bounces and spins her way through hair-raising stunts.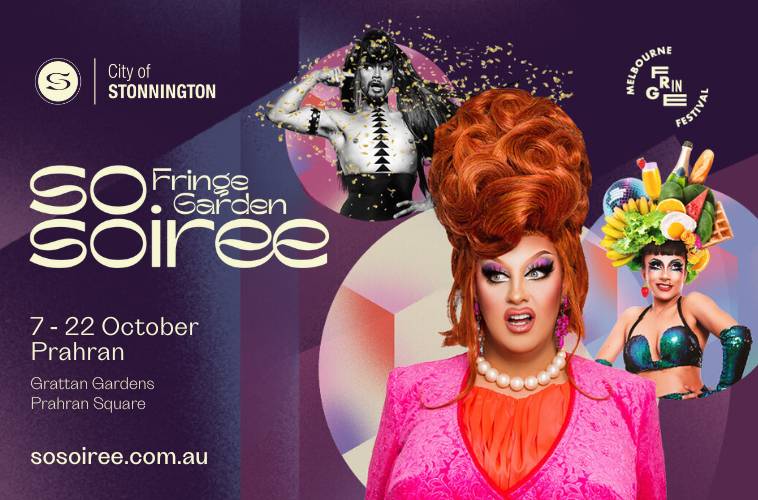 Each performance lasts about 45 minutes, with a new show each hour and charismatic host Aurora adding to the joy between shows.
City of Stonnington Deputy Mayor, Cr Melina Sehr is encouraging everyone to visit the vibrant precinct and experience the hilarious and impressive line-up of circus and street talent.
"It's a brilliant weekend of free family entertainment. Come along and enjoy all the feel-good performances that will surprise and delight audiences of all ages."
Also in Prahran Square, as part of So Soiree, is the Victorian premiere of Speed: The Movie The Play, an action-packed comedy that plays homage to the 1994 action thriller film Speed. It runs from October 10 to 22.
New for 2023, are nearby small businesses coming together to help celebrate Fringe. Prahran Square's nearby streets are home to some of Melbourne's best boutique cafes and restaurants and quirky shops.
Save the date, bring your family and friends, and join us for a weekend of pure magic and entertainment. For the full So Soiree program visit www.sosoiree.com.au and see what's happening at #sosoiree.
Prahran Square Circus and Street Arts Spectacular - kickstarting the So Soiree Fringe Garden Festival
Proudly presented by City of Stonnington in Prahran Square
Saturday 7 October and Sunday 8 October
Related Events