An Enchanting Twilight Market at Prahran Square on Thursday nights!
​No need to wait for the weekend to do your Christmas shopping! For the first time, we are hosting a weeknight market in the lead up to Christmas.
Expect an enchanting outdoor Christmas market nestled on the corner of Izett and Chatham streets, just steps away from the indoor Prahran Market. This is the perfect weeknight escapade! Pick the kids up from school and head straight to a Christmas market on these Thursday nights.
Seize the bustling pre-Christmas shopping rush in the heart of the city. Gone are the times where you have wait all week to visit another Craft Markets Australia event!
Introducing our Thursday Evening Twilight Market at the vibrant inner city Prahran Square. Nestled on the corner of Izett and Chatham streets, just steps away from the indoor Prahran Market, this enchanting outdoor space in the heart of the city is not only conveniently located but also promises to be a feast for the senses.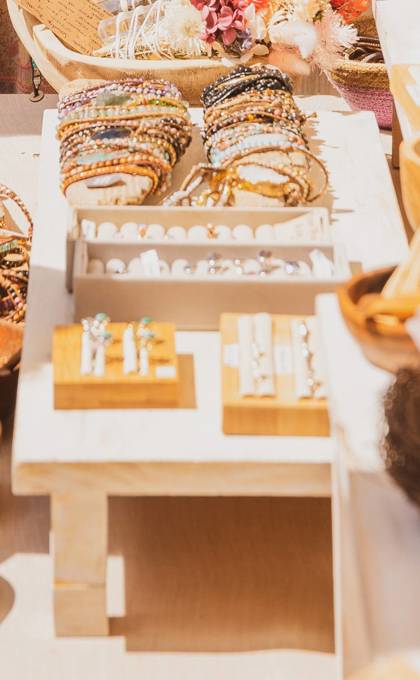 About Craft Markets Australia
At Craft Markets Australia, we're committed to a simple philosophy. Providing high-quality market experiences in some of Victoria's most beautiful locations.
We've been bringing communities together over well-made, home-grown and locally produced items for more than four decades now. Over that time, we've developed a network of producers, crafters, growers and patrons, each of whom looks forward to our next meeting.
From the very tip of the Mornington Peninsula in historic Point Nepean, to the rolling hills of Gippsland in Lardner Park, the majestic peaks and valleys at Yarra Glen, the bustling hub of Mornington Racecourse, and of course our flagship event, the Red Hill Market – now a tourist attraction in its own right – as well as many more, we ensure our markets aren't just another shopping trip: they're a family day out, a chance to connect with local and regional makers, to explore a new part of the world, and indulge in a more sustainable circle of consumption. We're all about high-quality – the freshest, the most creative, the best made and the most unique. Our sellers are in agreement – which is why that's what you'll find beneath their marquees.
We pride ourselves on bringing you experiences that people of all ages can enjoy. Along with our extended family of community volunteers, makers and producers, we look forward to welcoming you to one of our scenic markets soon.
Dates & Times
| | |
| --- | --- |
| Market #1 | Thursday 7 December 2023 |
| Market #2 | Thursday 14 December 2023 |
| Market #3 | Thursday 21 December 2023 |
Location
Centre Square
Prahran Square, Cato Street, Prahran VIC 3181
Get directions
Accessibility
Event notes
Access and Inclusion
We're committed to making Stonnington an inclusive, welcoming and supportive environment for all. To find out more visit our Access and Inclusion page.
We provide a range of accessible services and facilities so that all community members can enjoy our programs and events.
To discuss your accessibility requirements for this event, please email us or call 03 8290 1333 during standard business hours (9am – 5pm, Monday – Friday).
Photography and Filming
The City of Stonnington will be taking photographs and/or filming this event.
Your image may be reproduced by the City of Stonnington in publications and/or promotional materials (including online publications), on its website and/or on social media.
If you do not wish to be photographed and/or filmed, please advise the organiser at start of the event being held.
See the City of Stonnington Information Privacy Policy for further information.